Today is Canada Day, but a lot of people (myself included) are not celebrating, choosing instead to reflect on decolonization and learn about Indigenous history.
Workshop
Resource: Settler responsibility Google Doc
I went to a workshop on decolonization and being a good ally to Indigenous communities.
We went over the wheel of power/privilege and thought about things that weren't included on the wheel (image below), like religion, age, access to resources, and attractiveness.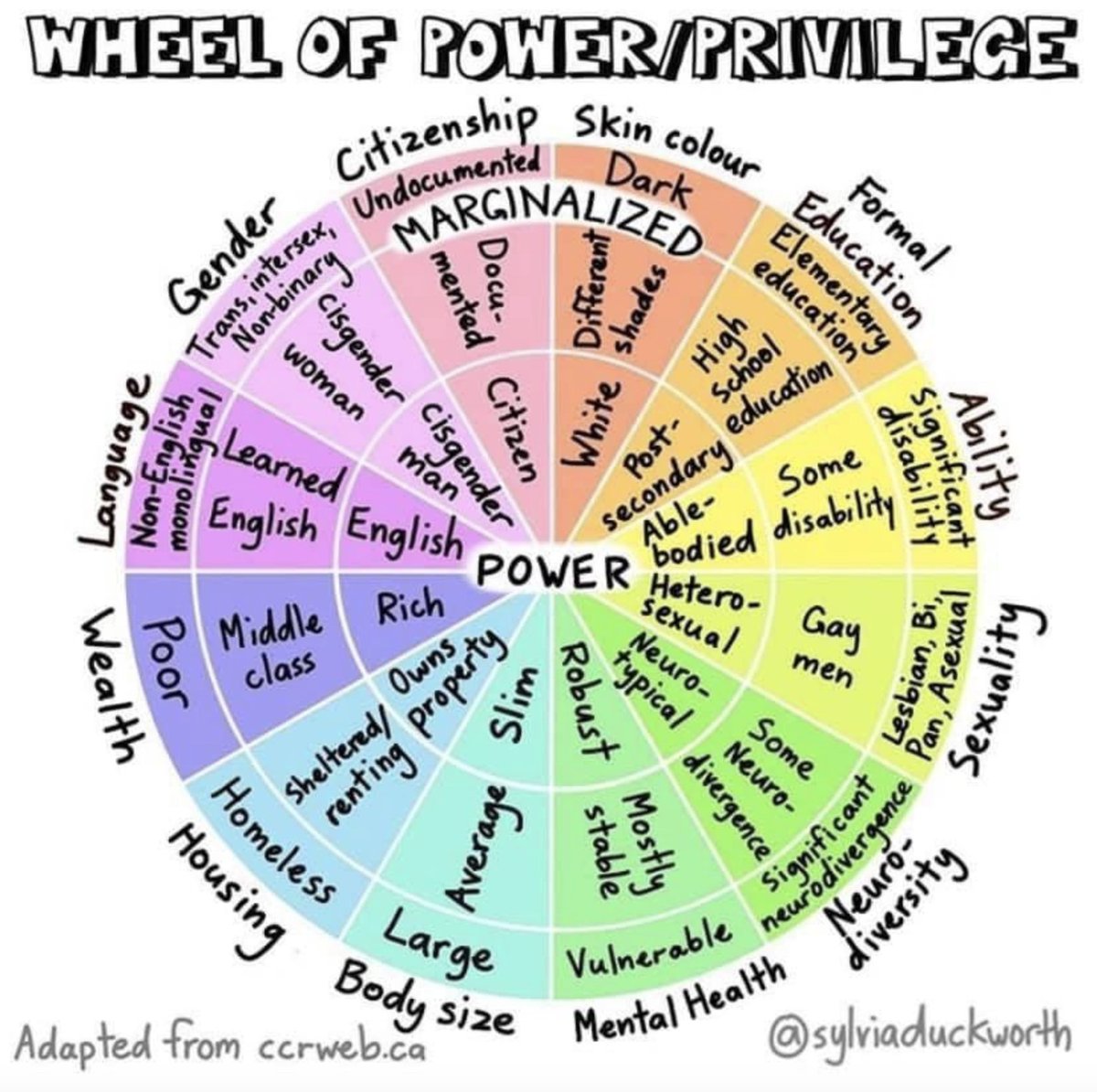 We also discussed what decolonization means and wrote a group poem. It was really engaging.
Mac vs Windows PC
I'm kind of worried that I'm at a disadvantage because I have Windows PC instead of Mac. For example, I can't use Sketch, Principle, Origami Studio, etc. A lot of people told me Figma is usually used though.
The power of code and data
Cool site about the average colours of the world: https://erdavis.com/2021/06/26/average-colors-of-the-world/
Portfolio Tips
I attended Design Buddies' Portfolio Review event.
Full notes: https://www.notion.so/Design-Buddies-Portfolio-Tips-9714284224e74998a87e569173a0a8df
General tips
Have a strong personal brand that stands out
Be mindful of consistency, layouts, and accessibility (with colours, images, and animation)
Don't have the "coming soon" (unclickable) at the top; if you can't click it and it doesn't add value, reconsider
Be aware of consistency in job titles – showcasing "Intern" versus "Director of Design" in the same portfolio

But also be honest of where you're at in your design journey

Use storytelling throughout

Have an intro, rising action, climax/problem/turning point, falling action, and resolution for your projects (and you can use it for your about page and other pages too)

Adding a caption to explain the context of your work is always good, especially for pages like "playground" – this plays into storytelling as well
Recruiters and hiring managers are the target audience you're designing for in your portfolio product
If you're unsure of which job you want, you can tailor your portfolio for a specific industry
Tell a cohesive narrative, make sure loops are closed, and be picky about what you talk about
Visuals
Have good art direction – your images/visuals shouldn't be boring

You can use photo scenes of phones and mock up your app on those instead of floating phone screens
There are some free mockups in Figma plugins or Artboard Studio (not sure if these are still free though)

Angled/diagonal mockups are hard to read – they're visually pleasing as a cover photo, but not when you're trying to showcase an app mockup
About page
Show your personality
You can have a mission/vision statement too and what you're passionate about (like accessibility and ethical design)
Case studies/projects
Add visuals for scannability and readability
Highlight key takeaways for skimming
If you have a demo video that's long, embed an animation instead to highlight it
Use Grammarly to check how long of a read it is

If it's longer than 10 minutes, distill it down; but scannability is more important than a specific time
The details are more for an interview; on your portfolio website, it should just be the highlights to entice the recruiter

It's good if you write a short sentence about what the project is trying to do (not just saying the title of the project)
The titles of your case studies can be pseudo-goal statements

Example: "Incentivizing preventative health outcomes as part of the continuum of care"
Another example: Instead of saying I work at Thriver or going general and captioning with "Relaunching the platform" I say, "(Re)building a platform for a wide range of workplace services at scale"
Stating the problem
Be specific and tell a story
Include business problems
If you are specific, you can talk about the impact you had more effectively
Importance of metrics
Talk about the quantifiable impact you had
Metrics will depend on the problem you're solving and your goal
You need to understand your metrics and explain why you chose it

The thinking is more important than the actual metric

What if I don't have metrics?

Share what and how you would measure success (remember it has to make sense with the problem you're solving)

Think about key metrics to validate your assumptions – what is your North Star metric?

Relate it back to your initial goal
If you're designing to improve conversion rate, then it's conversion rate

You can also measure user experience and business outcomes (task completion rate, increased number of subscribers, etc.)
Other metrics include:

Daily Active Users
Retention rate
Click through rate
Satisfaction with experience
Qualitative measurements of Net Promoter Scores

Some people don't expect entry-level designers to provide numbers

However, the solution you designed should tie back to the user goals and outcomes you identified to be important during Discovery
It has to be a closed loop and you need to communicate that you satisfied that
Links to resources